How To Choose New Flooring Like A Pro!
Carpet | Pad | Installation | LVP | Forms | Best Dealers
---
Save BIG! Buy Carpet Remnants!
Homeowners can easily save a ton of money buying Carpet Remnants or "In Stock" rolls carpet that may be available at your local carpet or flooring retailer. This free report can give you the edge you need to save a bundle on new carpet for your home, office or rental!
What Is a Carpet Remnant?
A carpet remnant is a length of carpet that is less than a full roll. Most carpet comes in rolls that are 12 feet wide and up to 200 feet in length. If some of the roll has been previously sold it can leave a partial roll still available for purchase, this is either called a carpet Remnant or a Roll Balance.
What's the difference? Remnants are usually about the size to do just one room, while a roll balance might be large enough to do several rooms. So if you just want to carpet your bedroom, then you might do well buying a remnant and save up to 25%. If you want to carpet several rooms then you might save more money buying a roll balance, perhaps up to 40% off the original retail price.
Carpet Dealers With Rolls of "In-Stock" Carpet...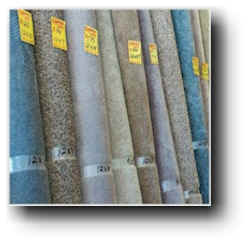 These rolls of carpet are available for immediate purchase and quick installation, but some rolls of carpet may not be worth buying at any price.... Some of these rolls of carpet may have hidden manufacturing defects that you will not be aware of until after it has been installed in your home.
Most locally-owned carpet dealers have both manufacturer's carpet samples and a number of in-stock rolls of carpet and carpet remnants available in limited sizes and colors. Some smaller carpet stores don't have enough room for in-stock carpet and may only have carpet samples for you to order from. Many in-stock rolls of carpet displayed on the showroom floor are "second-grade" goods and do not come with a manufacturer's new carpet warranty.
Ask your dealer if their in-stock rolls of carpet are first-quality or second-quality, and if they come with a manufacturer's new carpet warranty.
If so, I suggest you read the warranty completely before you buy so you understand what you are expected to do to keep your new carpet warranty in force.
What's the difference between First-Quality and Second-Quality Carpet?
First-Quality is rolls of carpet that pass the manufacturing quality control and sold with a full manufacturer's new carpet warranty. These are usually sold through dealers that have mill samples on display for you to inspect, take home to consider and to place your order from.
Take my free Carpet Foot Traffic Test to help determine what grade of carpet you need to buy for your home and lifestyle.
Sometimes a carpet manufacturer makes a roll of carpet that fails to pass their quality control. This could mean the color did not turn out right or the roll has a defect of some kind. These are considered Second-Quality goods. These rolls of carpets are often auctioned off in large lots to the carpet dealer with the highest bid.
There are dozens of reasons why a carpet might fail their quality control and when this happens they sell the carpet at a significant discount to their dealers and the dealers then sell them to you at a discount of up to 50% off retail for a full roll.
Important: If you plan to buy a roll balance or carpet remnant, be sure to ask the salesperson roll out the carpet completely so you can inspect it fully before you decide to purchase it. Look for anything that might not look right. Pay close attention to color streaking, shading problems, watermarks or missing tufts. Take a look at the carpet backing too; make sure there are no obvious abnormalities or defects.
What Makes a Carpet Second-Quality?
Some carpets may have missing tufts; some may have color dyeing, shading or streaking problems. Some may have a backing defect that can be difficult to detect until after it has been installed. Some carpets are just leftover roll balances from larger jobs, overstock or discontinued goods that are sold at a hefty discount to make room for new stock.
What is a Rem-Pac?
When the carpet manufacturer has too many roll balances they offer carpet dealers a special deal if they are willing to purchase a truckload of roll balances at a discounted price. These are called rem-pacs or remnant packages. Carpet retailers that buy rem-pacs are able to offer consumers partial rolls of carpet or rems at a fraction of the original price.
Buying a remnant or a roll balance can save you money so long as you are willing to accept the carpet on a as-is basis, and without getting a manufacturer's new carpet warranty. You can save up to 50% on a roll balance so long as you like the color and the style of the carpet and understand that you will likely not be able to purchase any additional carpet of the exact same color, dye lot, style or texture, in the future.
Learn more Lifestyle Often Dictates Best Carpet Choice
Do I Get a New Carpet Warranty?
You don't get a manufacturer's warranty on second-grade or discounted goods. You might get some type of limited warranty from the carpet dealer, but it will be very limited if there is any warranty offered at all. You may get a limited installation warranty from the dealer or from the independent installer you hire. This can be helpful if your carpet is installed poorly and you need to have the installer return to fix the problem. Most installation warranties are good for one year. Learn more Carpet Installation Inspection Checklist
Should I Buy First-Quality Carpet?
If you are not picky about color or style, and you want to save as much money as possible, then buying second-quality materials is a smart way to go. However if you are looking for a specific style, grade or color, then you may need to buy first-quality goods to achieve your goals and that means ordering from a sample and waiting for the carpet to be shipped from the carpet manufacturer. You only get a full new-carpet-warranty from the manufacturer if you buy first-quality goods.
See who I recommend near you, visit Alan's List of Preferred Carpet Dealers
New Carpet Warranty Requirements
Most homeowners never have a need to make a warranty claim on their carpet. But when it is necessary, it can be a daunting task. New carpet warranties are written in such a way that it is almost impossible for most homeowners to submit a valid claim. There so many hoops to jump through and so many care and maintenance requirements that must be performed perfectly that most warranty claims are denied. Learn more Carpet Stain Warranty - What Homeowners Need To Know
If you do decide to buy first-quality carpet, be sure you get a copy of the warranty and follow the manufacturer's guidelines to the letter. Keep your sales receipt showing the cost of the carpet separate from the cost of the pad and installation; Keep all receipts for periodic professional cleanings, use the recommended vacuum cleaner, use the correct pad type, thickness and density, and be sure to have your carpet installed according to the CRI 105 installation standard guidelines.
Be sure to buy a carpet that is capable to withstand your level of foot-traffic you have in your home or your claim will likely be denied.
Learn more What Carpet Style or Grade Should I Select?