Print Alan's Free Carpet Cost & Comparison Form
By Alan Fletcher - Carpet Expert and Consumer Advocate
I created this useful Carpet Shopping Form to help homeowners make wise and informed Carpet choices, save money and avoid costly Carpet buying mistakes.

Knowing what to buy, Where to buy it and Getting it installed correctly is "The Secret" to buying new Carpet wisely.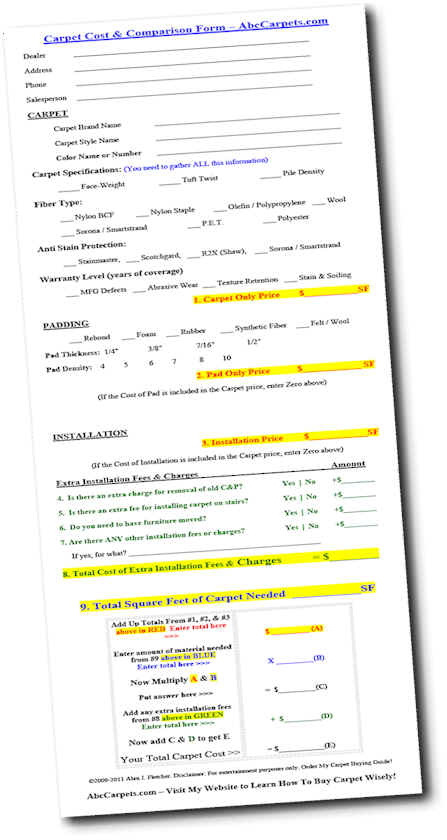 Click Here to Print This Form (PDF File)
Also...Get up to $100 off New Carpet!
Present this free Coupon any Carpet Dealer you find listed
in Alan's Preferred Carpet Dealer Directory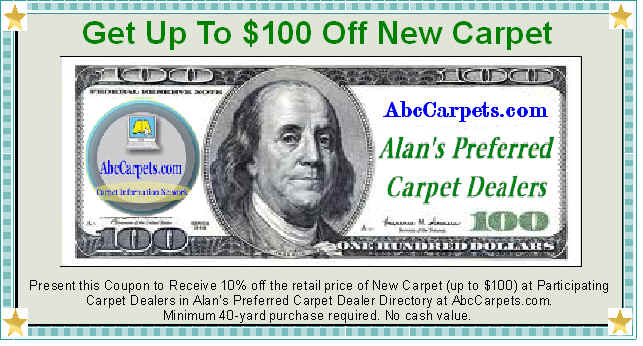 Q. What Grade of Carpet Should I Buy?

Take Alan's free Carpet Foot Traffic Test to find out!

Q. How Much Does Carpet Cost?

Check out Alan's Basic Carpet Cost Guideline page.

Q. Where Should I Buy Carpet?

Visit Alan's Preferred Carpet Dealer Directory to see who I recommend near you!
AbcCarpets.com Homepage Disclaimer ŠAlan Fletcher - All Rights Reserved.